PSI Spotlight
Sciaky wins President's "E" Award for exporting EBAM® metal 3D printing systems around the world
Chicago, IL - Sciaky, Inc., a subsidiary of Phillips Service Industries, Inc. (PSI) and leading provider of metal additive manufacturing (AM) solutions, announced today that it received the President's "E" Award from the U.S. Department of Commerce for the export of its industry-leading Electron Beam Additive Manufacturing (EBAM®) systems to countries around the world.
The President's "E" Award was created by Executive Order of the President in 1961. Today, the award is awarded by the U.S. Department of Commerce to afford suitable recognition to persons, firms, or organizations that contribute significantly in the effort to increase United States exports, with a focus on innovation, sustainability, and work of broad impact.
The President's "E" Award Ceremony took place during the U.S. Manufacturers to Europe & Beyond Conference on September 19, 2017 in Cleveland, OH.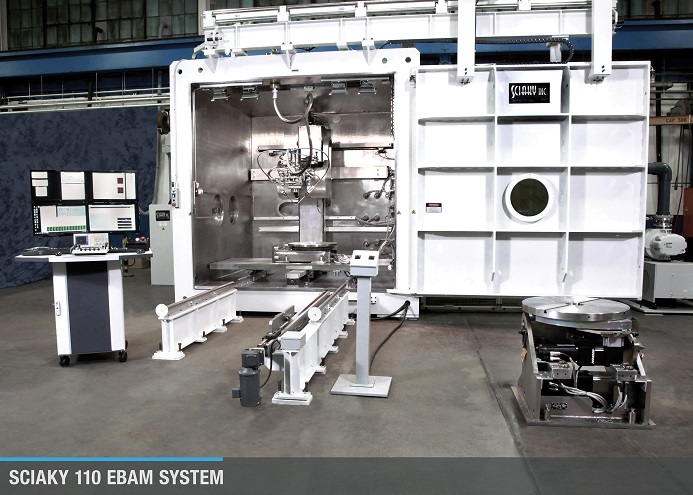 As the most widely scalable, metal additive manufacturing solution in the industry (in terms of work envelope), Sciaky's EBAM systems can produce parts ranging from 8 inches (203 mm) to 19 feet (5.79 meters) in length. EBAM is also the fastest deposition process in the metal additive manufacturing market, with gross deposition rates ranging from seven to 20 lbs. (3.18 to 9.07 kg) of metal per hour. EBAM brings quality and control together with IRISS® – the Interlayer Real-time Imaging and Sensing System, which is the only real-time monitoring and control system in the metal 3D printing market that can sense and digitally self-adjust metal deposition with precision and repeatability. This innovative closed-loop control is the primary reason that Sciaky's EBAM 3D printing process delivers consistent part geometry, mechanical properties, microstructure, and metal chemistry, from the first part to the last.
"Sciaky is honored to receive this prestigious award from the U.S. Department of Commerce," said Bob Phillips, Vice President of Sciaky, Inc. "We are proud to be an American company that exports innovative technology all across the world."
For more information on Sciaky, visit www.sciaky.com. You can also follow Sciaky on Twitter, Facebook, Google+, YouTube and LinkedIn.